Noah's Ark, and All Those Animals
By Andrea Stephens Tidings April 2017
---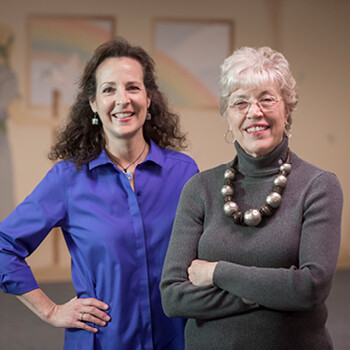 When you walk into the room you will be greeted by a naughty little goat who has made his way into a barrel of grapes. Don't let those innocent eyes fool you. He is caught red-handed (or hoofed, in this case) with a purple bunch of grapes hanging from his mouth! But that's what goats do, right? They chew up and eat all sorts of things they're not supposed to! As you continue your walk through the room you will see more and more furry, four-legged friends. In fact, on the next wall take a look at that big brown bear. Looks like he has gotten himself into a bit of trouble as well, but not with grapes. He seems to be the target of some very persistent honeybees that are trying to protect their honey. But bears love that golden sweetness, so he is just being a bear! Now turn to the opposite wall and you will see the backside of a man in a long robe who is peering out one of many windows. He appears to be gazing at a beautiful, white dove with an olive branch in its beak. Who is the man? you might ask. It is Noah! And you are standing in his ark surround by some amazing birds, fish, insects and animals that were designed by the Master Creator and called onto the ark two-by-two.
If you have never seen the awesome mural that covers the walls of the first floor children's area, now is the time to pay a visit. With the upcoming church renovation project, this very fine artwork will be gone but never forgotten. It is the handiwork of artists Glenna Taylor and her niece, Jill Wyatt Bunn, daughter of longtime Asbury member Joan Wyatt.
Glenna began painting years ago when she and her husband were stationed in Germany. The officers' wives club was offering a painting class, which she signed up for. She fell in love with watercolor, pen and ink, and eventually acrylics. Years later while living in California, Glenna and her husband visited relatives in Tulsa who attended Asbury. She heard about the new church being built on Mingo. Now, an accomplished professional artist specializing in fine finishes, Glenna, and her niece, felt the Lord inspire them to present a set of sketches to the building committee. Glenna and Jill chose the Noah's Ark theme since it allowed them to create a fun atmosphere for the kids while maintaining the integrity of the story. In fact, they researched the background to be sure it was realistic. To their delight, the committee responded with a green light!
Glenna and her husband moved to Tulsa in 2002, joined Asbury, and the painting venture was underway shortly thereafter. Sporting their yellow hard hats (the building was still a messy construction site) they got busy with those brushes and hues of yellow, blue, red, purple—a rainbow array of color! Even though it took over a year to complete the mural, Glenna found the work soothing and would easily lose herself painting as time disappeared. Jill, also an accomplished artist, found the work fun, especially knowing that it would bring delight to children for years to come.
When asked which part of the mural was their favorite, these talented ladies had different answers. Glenna is partial to the goat and the bear. Jill adores the playful raccoon and the fish. Jill shared that seeing an idea go from a sketch on paper to a realistic painting on the wall was worth the time investment. Together, Glenna and Jill watched their drawings come alive. So did the other family members who would bring them lunch or run out for more paint. They appreciated the moral support and the added meaning of the endeavor being a family affair.
Perhaps Glenna and Jill's greatest satisfaction came when they heard stories about the effects and joys the painted animals brought the kids. One little girl, who regularly attended Mother's Day Out, would not leave the room until she went to kiss the nose of the Old English Shepard and tell him good-bye. Then there were reports of children on Sunday mornings who were dealing with separation anxiety
or hurt feelings over a toy who would calm down once they became intrigued with the animals surrounding them. Jill shared that one particularly frustrating day of painting turned completely around. She was struggling with one of animals—it was just not coming together. As she stepped away from it, a child went to the animal and began petting it and trying to hug it. She realized that the painting didn't have to be perfect to bring joy and meaning to the kids.
For nearly 14 years, our Asbury kids have been blessed surrounded by Noah's Ark. Glenna and Jill have taken many pictures to capture images of the mural that will put a smile on their faces for years to come. To Glenna and Jill, our hearts say thanks. We appreciate the time and talent that went into this labor of love.
---