Turning our wandering hearts to the Lord
By Melissa Renkema Tidings January 2018
---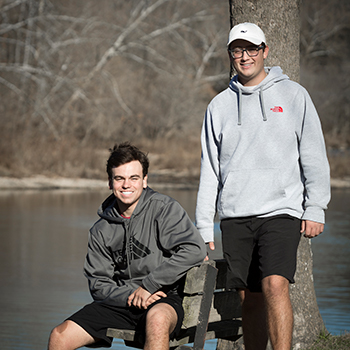 There seems to be a lack of strong male Christians in today's world. Fortunately for us here at Asbury, one must simply spend a little time with our senior high students to find some truly incredible boys learning and quickly growing into strong men of God. Two of these boys are Tyler Cox and Davis Woodliff.
They not only talk-the-talk when at church, they walk-the-walk every day in their lives and their schools. These two boys have been friends for years but really started connecting when Davis started a Bible study for high school golfers.
Davis started this group last summer, and it really took off this spring. These boys gather together from almost every school in the Tulsa area to dig into the Word and have fellowship. When talking about this group, Tyler said that before, he had friends and he played golf, but those two things never came together. After being a part of this group, Tyler feels he has found his place.
These two fellows spur one another on. Since Tyler is a senior and Davis is a junior, their sights have been set on college. As Tyler gears up to leave, he said his main focus recently has been to fully step into his faith as his own and to learn how he needs to find the ways he connects with the Lord. Tyler has figured this secret out way before most other people, and his passion in seeking the Lord's heart is inspiring. Tyler enjoys Sunday church, but he goes mainly for the fellowship and for the wisdom of those who have gone before him. The more traditional style is not how Tyler has found he best connects with the Lord, and because of this it has pushed him to really dig in during his own time to be filled and connect in the ways that fit him best.
Our God is extremely personal and wants to connect with each person individually, in unique ways, and Tyler has found and continues to explore the best way he and the Lord can be together. Tyler has already discovered that Sunday church is for encouragement and fellowship with other believers, and it is outside of Sunday, in our own quiet times, that we truly dig in and commune with our Father in Heaven.
The weekend at winter retreat was growth as usual for these young men. The theme was Wander, and the time was filled with teaching, discussion and conversation about wandering eyes and thoughts. It was a time to rest and really dig in to the Lord's desire for our lives and how we can keep our thoughts and eyes rooted on Him. Conversations began to focus on things like lust and jealousy; and while these topics are things we usually shy away from, they need to be discussed in a healthy and Christian environment. After all, Tyler pointed out that we were not created to do this alone, and we need genuine accountability to help us move forward daily. What far outweighs the uncomfortable is the desire to be better disciples. As Tyler puts it, "If you love the world, you don't love the Father." With this motivation in mind, the students found encouragement and training in how to keep their wandering thoughts focused on our good Father.
Davis also found great encouragement and insights during the retreat. With the advice of David Read, Davis intentionally began to pray for a wandering friend. Because of Davis' desire to listen to and speak words directly from the Lord, he was able to speak life into a friend who hadn't prayed in three years and who once again found the Lord during the weekend away. Praise God! Davis himself also connected with the theme of wandering and found answers he had been seeking for several months. As Davis had been looking to his future, he was wandering what he should do and looking for clarity for his life, as we all do especially near the end of high school. Davis learned this weekend - and the thing he would like to speak into anyone who will listen - is that our life is not going to be written out in fine print for us. In whatever we do, we are to glorify God, and if we are doing something that can't glorify Him, then we shouldn't be doing it. With this lesson deeply rooted, Davis steps forward in his life, in line with God's plan for his life as Davis simply takes one step at a time, trusting that the Lord will make just that next step clear in the right timing. I think it's safe to say that these two young men will continue to accomplish unimaginable thingWith their solid basis in faith, their desire to seek the Lord in the private moments; and with their friendship, there is nothing these two can't do. Both Davis and Tyler know and practice what it means to turn a wandering life into a wondering heart after the Lord. s for the Lord in the years before them.
---