Two Are Better Than One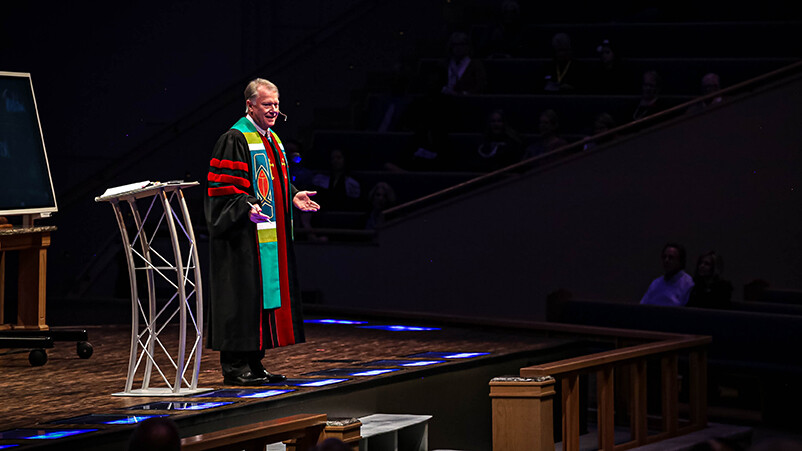 by
Tom Harrison
The first "very good" in the Genesis account comes when God made human beings. Until then, everything was just "good." Humans became the crown of God's creation. The first "not good" in the Genesis account of creation refers to Adam being alone (Genesis 2:18). God made us for relationship.
Ecclesiastes 4:9-11 says: "Two are better than one, because they have a good reward for their toil. For if they fall, one will lift up his fellow. But woe to him who is alone when he falls and has not another to lift him up!" The Father, Son and Holy Spirit are in relationship with each other. The church is in relationship with the trinity and with one another. We do not have to be married to be on a team. (In fact, Paul said it's preferable to be single because singles can be focused exclusively on the faith—1 Corinthians 7.)
We are nearing completion of our student ministry facility and north portico. We will begin work on our development center soon. I love what we called it: Better Together. Life is better with others. Our preaching text says, "Now you are the body of Christ and individually members of it" (1 Corinthians 12: 17). Thank you for supporting Asbury by sharing your prayers, presence, gifts, service, and witness.
We do not have to all be alike to be on the same team. "Synergy" is where differences blend for greater strength. We will focus on this theme Sunday. Here are our readings:
Monday: 1 Corinthians 12:27-31
Tuesday: Ecclesiastes 4:9-12
Wednesday: John 17:20-26
Thursday: 1 Corinthians 3:1-9
Friday: 1 Corinthians 12:1-11
Saturday: 1 Corinthians 12:12-26
Sunday: 1 Corinthians 12:27-31
Invite a friend!




Tom Harrison
Senior Pastor