What You Need to Know About This Sunday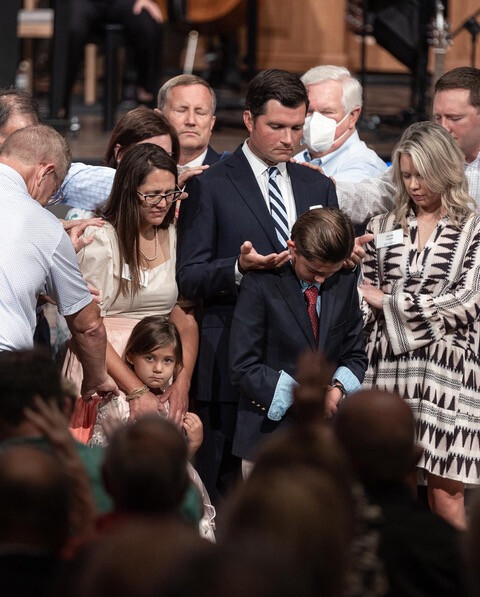 by
Andrew Forrest
This Sunday is Christmas Commitment Sunday at Asbury, and it's going to be GREAT.
We're going to celebrate just how much God has done for us over the past year.
(Spoiler: a LOT.)
You're going to be there, right?
The picture above is of my family on our first Sunday at Asbury, as the leadership of the church prayed over us.
We made a big move this past year, leaving Dallas and coming to Tulsa, and throughout the past year of change, God has been so good to us. We have a lot to be grateful for this Christmas. Thank you, God, for all your steadfast kindness to us!
---
God is always good.
But in a world of getting and spending, advertising and marketing, it's easy to forget that fact.
For me, it's really easy in this day and age to forget that all that we have is a gift from God.
And forgetting that doesn't make me more happy and content.
On the contrary: failing to acknowledge the Lord as the giver of every gift leads me to entitlement and discontentment.
---
Here is a lie we tell ourselves: that what we have is ours, and that we deserve it and did it alone.
Here's the truth: what we have, we have because God has blessed us with it. In fact, all that we have and are comes from God.
I believe failing to give God thanks for what he's already given and then asking God to bless us in the coming year is a serious mistake.
And this is why Christmas Commitment Sunday is so important.
---
Here's what will specifically happen on Sunday.
We'll have 2 identical worship services in the Sanctuary: 9:00 and 11:00 am. (Note that for this Sunday only, we will not have the 8 am service.) We get to sing Christmas Carols!
At the close of each service, every single household will be given the opportunity to come forward, kneel at the prayer rail, thank God for his blessings for the past year and ask for his continued blessing on the year ahead, and leave a gift in an envelope at the rail.
After each service we have a TON of food we've catered in, so we hope you'll stay and visit and celebrate. The entire building is being set up for the celebration! (Food will be served until 1:15 pm, and everything is FREE—Uncle Asbury is picking up the tab.)
And I know this is a Texas thing, but I hope the Okies will forgive me for it: we've engaged a mariachi band to roam the halls and enliven the festivities because it is my contention that you can't be unhappy when there are mariachis around!
PARENTS:

there is no elementary or student programming this Sunday

because it is really important to me that our whole families participate in the Christmas Commitment prayer time.

This is a GREAT opportunity to teach your kids gratitude and to fight back against entitlement and consumerism.
---
As I said above, at the end of each service, we'll come forward and make a gift to finish strong in our 2022 giving and start well by making a commitment to give in 2023.
Does the church need money for ministry? OF COURSE. (Though we are doing fine financially.)
But more importantly, I desperately want our folks to acknowledge and build on this foundational spiritual truth: God provides. Period.
So, Christmas Commitment Sunday is therefore an important spiritual opportunity in the lives of people in our community.
Which means we should expect spiritual opposition.
I guarantee you that the evil forces of this world (those which St. Paul called "the powers and principalities") don't want Asburians acknowledging the truth about God's gifts this weekend. There is a lot at stake, which means that we need to be praying for our church this weekend.
I'm writing to ask you to join me in praying as a part of our 24-hour prayer vigil in the Mason Chapel, 9 am Saturday-9 am Sunday. I just signed up for a slot—it would mean a lot to me personally for you to join me and take a half-hour shift. (There will be security on-site the entire time.) I want to see every shift taken.
There is a lot at stake spiritually this weekend, and the only way to fight spiritual battles is with prayer.
---
Friends, I know we haven't done this at Asbury before, but I'm telling you:
THIS IS GOING TO BE A GREAT SUNDAY AT ASBURY!
I am FIRED UP.
Your friend,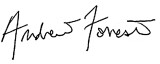 Andrew Forrest
Senior Pastor
P.S. If you missed it, here's the link to sign-up for the prayer vigil.