You Can't Outgive God
By Sara and Matt Rogers Tidings January 2020
---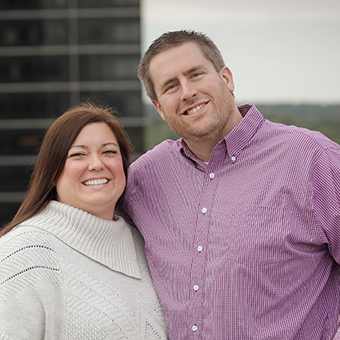 Sacrificial giving. It sounds, like you have to sacrifice something – to give up something. And the concept of sacrifice or doing without is foreign to most of us, right? In this selfie-driven, social media culture, life can easily revolve around me, myself and I. But in God's Kingdom, the focus is, "What can I do for you?"
What does sacrificial giving look like? Maybe it's a student choosing to show up to 2nd Saturday at 8 am and be the hands and feet of Jesus around Tulsa, even though she already has fulfilled her school's required community service hours. Maybe it's a couple serving as foster parents to a child who needs to be shown love, grace and comfort. It could be it's an employee using precious vacation time to witness to others on a mission trip. Maybe it's a person giving away his car to a co-worker needing reliable transportation. Or, even it's you giving $10, $100 or $1,000 per month to Asbury's Better Together capital campaign so we can better fulfill our mission of helping others follow Jesus.
Recently, our AsburyKids Coordinator Sarah Johnson was teaching our Rooted. She reminded us of an amazing scripture from Deuteronomy 6:4-13 that calls for wholehearted commitment. As Moses was leading the Hebrews, the nation of Israel, into a land flowing with milk and honey as well as a land filled with people who believed in many gods, Moses implored the people in verse 4, "Listen, O Israel! The Lord our God, the Lord is one."
Moses reminded the people they were about to enter a land with large, prosperous cities where they would not have to work to build the cities or houses, dig the water wells, grow the food or produce the goods they were about to enjoy. Sound familiar? It can be very easy to forget the Lord's provision and faithfulness when we have so much available at the snap of our fingers. Rather, we must "worship the Lord our God and serve only Him."
During the Better Together sermon series, Pastor Tom led us through 1 Chronicles 28-29. As King David was preparing his son Solomon for assuming the responsibilities of the throne, David shared instruction and encouragement that we can apply in our lives: learn to know the God of our ancestors intimately by worshiping and serving Him with our whole hearts and willing minds; we are to be strong and courageous, and do the work (of building the Temple) while not being afraid or discouraged because the Lord God is with us; when we as "mighty men and women" are called to give, we can rejoice over the offerings when they are given freely and wholeheartedly to the Lord; and we should offer our praises to the Lord.
As we, along with the rest of Asbury's congregation, were preparing to make our financial gift to the Better Together capital campaign, we were continuously seeking God and asking Him to show us what sacrificial giving meant to us specifically.
Until recently, we didn't have much committed financially to Asbury. We were giving of our time and talents by volunteering with various ministries around the church; however, Better Together was an opportunity for us to open our tight hold (or death grip!) on our finances and think with a sacrificial mind and heart.
While sacrificing is inherently challenging and potentially scary if we're not trusting God, we truly wanted to approach our financial giving freely and wholeheartedly like the Israelites building the Temple of God.
After much prayer and pouring over every aspect of our monthly budget (including our beloved vacation fund), we shot off an email to Pastors Tom and Daniel with our commitment knowing that would lock us in – there was no going back once we had let them know our intentions. For the next few weeks, we had conflicting feelings of both peace in our decision but also lingering doubts as to how it would all work out because this was a major financial sacrifice for us.
During this time, Matt's grandma "Nanny" passed away. As Matt was helping his mom start the process of closing the estate, she unexpectedly informed him that Nanny had left an inheritance for us in the exact amount we had committed to Better Together. Until that moment in our lives, we truly had never understood God's provision and faithfulness. However, our default thinking crept in to say, "You have met your campaign obligation, nothing else is required."
But God had other plans. After seeing His faithfulness displayed to us, the money that we had originally pledged to Better Together — now fulfilled by the inheritance — has instead been used to increase our monthly giving to Asbury's operating budget. We did not give to get; we gave so God could change our hearts and put our focus squarely back on Him. While we in no way hold ourselves out as the model of sacrificial giving, we are focused on pursuing the Lord our God, the Lord alone. With wholehearted commitment, we are seeking how we can continue to help grow God's Kingdom and share the love of Jesus with others.
As Financial Peace University's Dave Ramsey teaches, we give to look more like God. Giving changes you. God is the ultimate giver and because we are made in His image, we are designed to be generous. And when we give, we start to look more like Him. Everything we have comes from God (1 Chronicles 29:14) so when He asks us to give, it's not because He needs our money. His goal is to reshape our hearts.
"God loves a person who gives cheerfully. And God will generously provide all you need. Then you will always have everything you need and plenty left over to share with others." (2 Corinthians 9:7-8).
Check out Hebrews 13:16 and Philippians 2:3-5 for more Biblical truth about heart-shaping giving. Seek to know God intimately, worship Him with your whole heart and willing mind, and trust that He will reveal incredible opportunities for you to serve Him. We have a feeling that when you get in the rhythm of giving generously and committing your time freely, it won't feel at all like a sacrifice.
---